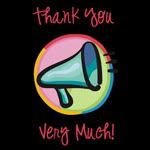 Today I am joining up with Kmama over at The Daily Dribbles. It is free therapy Thursday. Go check her out!!
-Thank you very much In-n-Out for finally gracing the northern part of our lovely state. We are so happy to have you!! (No sarcasm here) But you should have positioned yourself much farther than just 3 small miles away. I am tempted daily to visit you and consume burgers and fries!! Thanks for that!!
-Thank you Christmas for staying on the 25th of December even though a few weeks ago I asked you to move to MAY. I am not prepared and now the anxiety has set in! (I know I should really be thanking myself! But why take responsibility at this point?)
-Thank you to my children for making me act like an absolute lunatic this holiday season! I appreciate all the opportunities to yell and threaten to take away Christmas. I have threatened to call Santa about 1000 times and it is still not working. So if any of you have his number I would love to make that CALL!