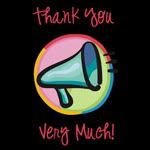 Joining up with KMama again from The Daily Dribbles. I just have a few people to thank and wanted to do it here.....
Dear Wii Biggest Loser Game,
First of all thank you for making my character look like I weigh 650 that is fun to watch everyday. Also thanks to my trainer Jillian for showing me muscles I didn't know I had. And thank you for calling me a quitter....
Sincerely,
Really doubting my purchase
Thanks to this girl
For waking me up every morning 15 minutes before my alarm goes off. Just so you know that is my pet peeve darling beautiful girl. (I know how can I stay mad?)
-Tired Momma
To my readers and commenters...
Thanks for coming back and leaving lovely little comments that make my day or for just showing up on my blogfrog widget. I am always happy to see and hear from you.