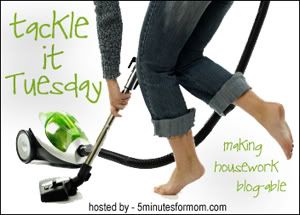 I am joining up with 5mintesformom today for tackle it Tuesday. I am really behind on A LOT of things lately and not only am I going to tackle it Tuesday I am deeming this Tackle IT November. My two main projects are going to be my master bedroom and general picking up.
One of the main reasons we bought this house was because of the master bedroom, we even upgraded a few things knowing that it would be a great place for us to hang out and enjoy. But much to my dismay, I rarely even go in my room. It is messy and unorganized and the room I just throw everything into when I am trying to clean other areas. So this month I am going to make it a better place. A few things I have already done...made a comforter that I like, changed the curtains and bought paint for the walls. Of course the paint is still in the cans on the floor but I promise I will get it done this month (pending any real disasters).
We did put in this closet organizer and paint the closet. It has helped a lot with our clothes, believe me they were everywhere. Don't mind my weird clothes and terrible photography the room was a pain to shoot!
What things are you tackling? Leave me a comment and go over to 5Minutesformom and link up!